LWB-16M/64 Optical Wiring System
Main Features - 1: Features at a glance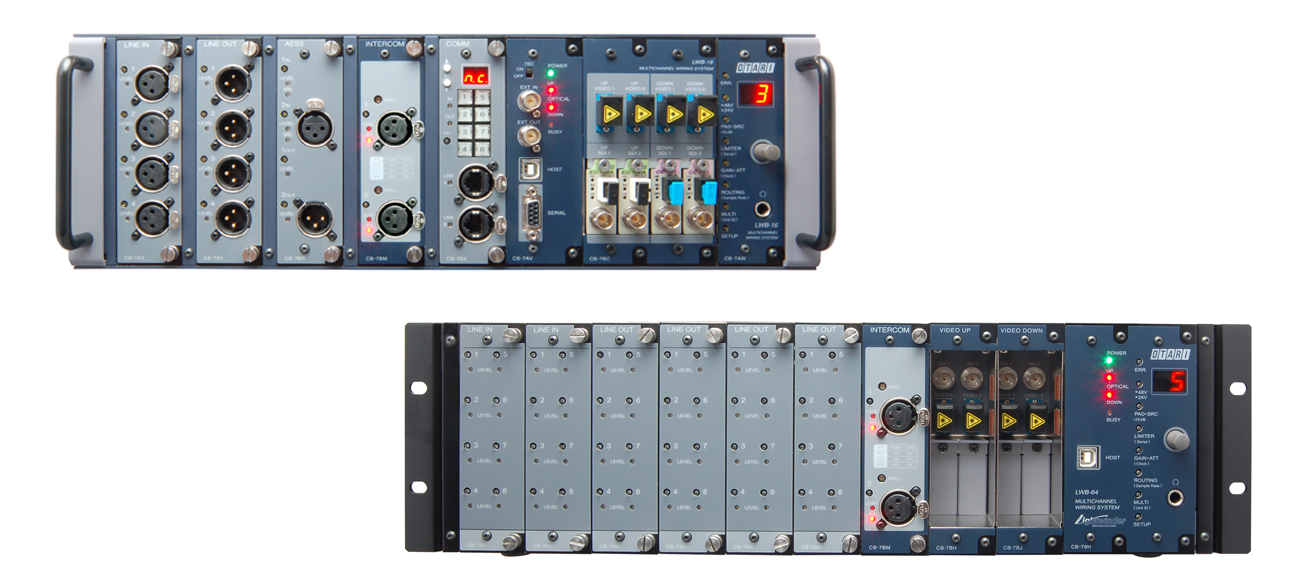 Compact and light-weight audio/video signal transmission system for outside broadcasting.
Two types of base units: The portable unit "LWB-16M&rqduo; has five front slots and can contain up to 20 channels of audio I/O. The rack mount unit "LWB-64" has nine user slots and can contain up to 72 channels of audio I/O. Optimal I/O configuration can be easily obtained by selecting modules to be inserted in the slots.
Flexible system configuration from a minimum system composed of only one LWB-16M unit to a large system made by 16 units (incl. LWB-64). Up to 256 channels of audio signals can be handled by combining multiple units.
System configuration can be done from an LWB unit without connecting a PC. GUI control PC software "Lightwinder Commander V2 (LwcV2)" for configuration, monitoring, and easy routing setup in a list format is also available.
Maximum transmission length is 10 kilometers (unit to unit, with single mode fiberoptic cable).
Signal transmission redundancy is realized by a ring connection: By adding one more fiber-optic cable to close the connection circle, the entire audio data transmission is protected from a fiber cable fault.
Hybrid fiber-optic camera cable can transmit AC power as well as audio signals (there are some limits in power transmission distance). Power supply redundancy is realized by receiving power from the AC inlet and the camera cable receptacle.
The LWB-16M equips an AC outlet (PowerCon® connector).
Optical power level monitoring via tri-color LED.
Control lines in a hybrid fiber-optic camera cable can be connected via XLR connectors for use as utility lines.
Audio signals can be monitored with headphones.
Key Lock-Out function to prevent unintentional changes.
Microphone head amplifier gain and turning on/off of +48-volt power, pad, and limiter can be controlled locally on that unit and remotely from the unit routed to it.
Tri-color LED level monitoring (with selectable clip holding) and +48-volt power indication on each microphone channel.
LED dimmer.
Video transmission via multi-rate SDI (up to 3G-SDI) can be supported by installing an optional video interface.
Support for 2-wire and 4-wire intercom system.
RS-422 serial control signal transmission. Transmission of S-BUS/ARCNET and GPI signals is available by adding an optional dedicated module.
Transmission of AES3 signal's channel status and user bits is possible even when SRC is turned on.
MADI is also supported to improve convenience in multichannel operation.
System configuration including commentary and communication is possible by adding the COMM. module.
Loop Connection: By making a loop connection of the fiber-optic camera cables, the transmission lines between the LWB units are duplexed. If optical connection between two units is broken at one point, communication is continued by using the connection from the upstream or downstream side.