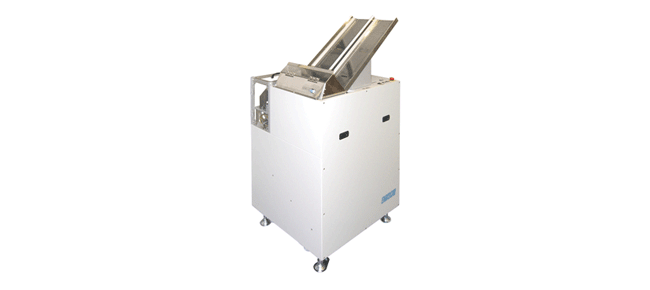 Combined with the Otari CM-20TI Title Sheet Inserter, the CM-20CF DVD Case Feeder fully automates the title sheet insertion process.
Just pressing one button starts continuous case supply from the large capacity magazine that can contain 100 cases and accepts non-stop refilling.
Automated Case Supply: The Otari CM-20CF automates a series of operations from getting and opening DVD cases to feeding them to the Otari CM-20TI title sheet inserter. By adding the CM-20CF to the CM-20TI, customers will be able to further reduce costs for the title sheet insertion process.
Slim Case Supported: Like the CM-20TI, the CM-20CF supports regular and slim cases. Switching of case types can be done easily and quickly without the need for hand tools.
Easy Operation: Operation of the CM-20CF is very easily done with the START and STOP buttons. For convenience, a remote control switch is provided on the CM-20CF to set a title sheet in the CM-20TI and put it in ready status.
100-case Stack: The magazine type case supply mechanism of the CM-20CF enables operators to refill cases without stopping the machine.
Movie
CM-20CF, CM-20TI and CM-20DI in operation: Windows Media Video file(.wmv, 1.1 MB)
* Requires Micrsoft Windows Media Player.