CM-20TI Title Sheet Inserter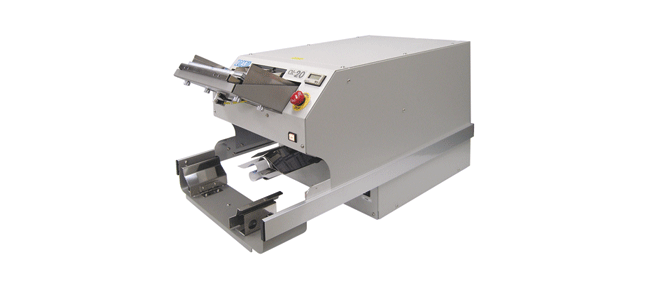 CM-20TI DVD Title Sheet Inserter: Labor- and Cost-Saving Solution for DVD Casing Process for Small & Flexible Productions.
Easy Operation: Put title sheets in the magazine and press the SET button. Then open a DVD case, insert it into the guided mechanism, and repeat! That's all you have to do. Completed cases are automatically ejected and the machine continues to feed title sheets until the magazine is emptied.
Slim Cases Supported: The CM-20TI can handle popular slim cases as well as regular tall cases to respond to wider product needs.
Designed for Flexible Production: Various types of cases are being introduced in DVD packaging and some cases cannot be handled by fully automated machines. The CM-20TI focuses on the most troublesome handwork, insertion of title sheets and it is best suited for frequently changing productions.
Compact Design: The CM-20TI packs the title sheet inserting mechanism of the large-scale, high-end casing machine into a compact enclosure: High quality and high productivity is now available on the desktop. By combining the CM-20TI with belt conveyors, a higher efficiency can be attained.
Movie
CM-20CF, CM-20TI and CM-20DI in operation: Windows Media Video file (.wmv, 1.1MB)
Requires Micrsoft Windows Media Player.