LWB-16M/64 Optical Wiring System
Main Features - 7: Safety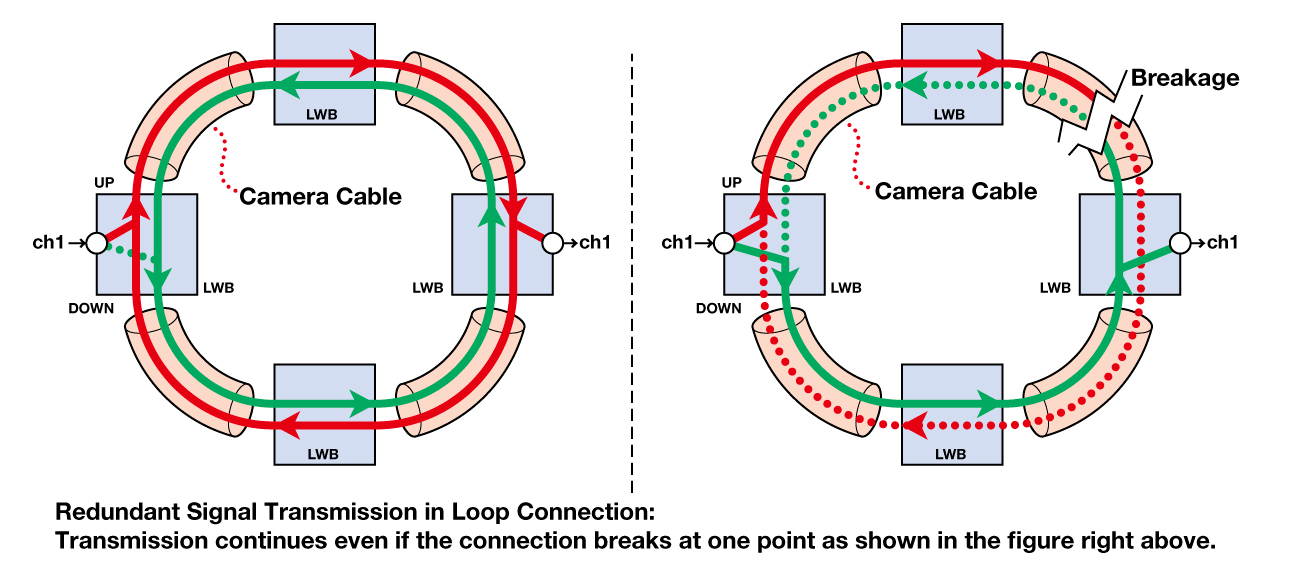 Doubled Communication Line by Loop Connection of Fiber-Optic Cables: By looping the connection between the LWB units, the signal transmission is doubled by the upstream and downstream links and if the cable is broken at one point the signal is continuously transmitted by the remaining link.
Optical Power Level Indication: Optical transmission power level of the upstream side and downstream links can be monitored with the front panel 3-color LED indicators.
Power Supply via Fiber-Optic Camera Cable and AC Inlet: Power supply to the LWB unit can be doubled by feed from two different sources.
Temperature Monitoring: Considering use at outdoor relay broadcasting venues, the LWB monitors its internal temperature and it issues a warning if the temperature exceeds the higher limit value. This is also notified to other connected units.
Support for Hot-Swapping: The audio I/O modules inserted in the front slots can be hot-unplugged or plugged to allow quick recovery by replacement of modules if a problem should occur.
Key Lock-out Function: The front panel switches can be locked out to prevent unintentional changes. The value currently set can be confirmed while in the lock-out status.