LWB-16M/64 Optical Wiring System
Main Features - 3: Video Signal Transmission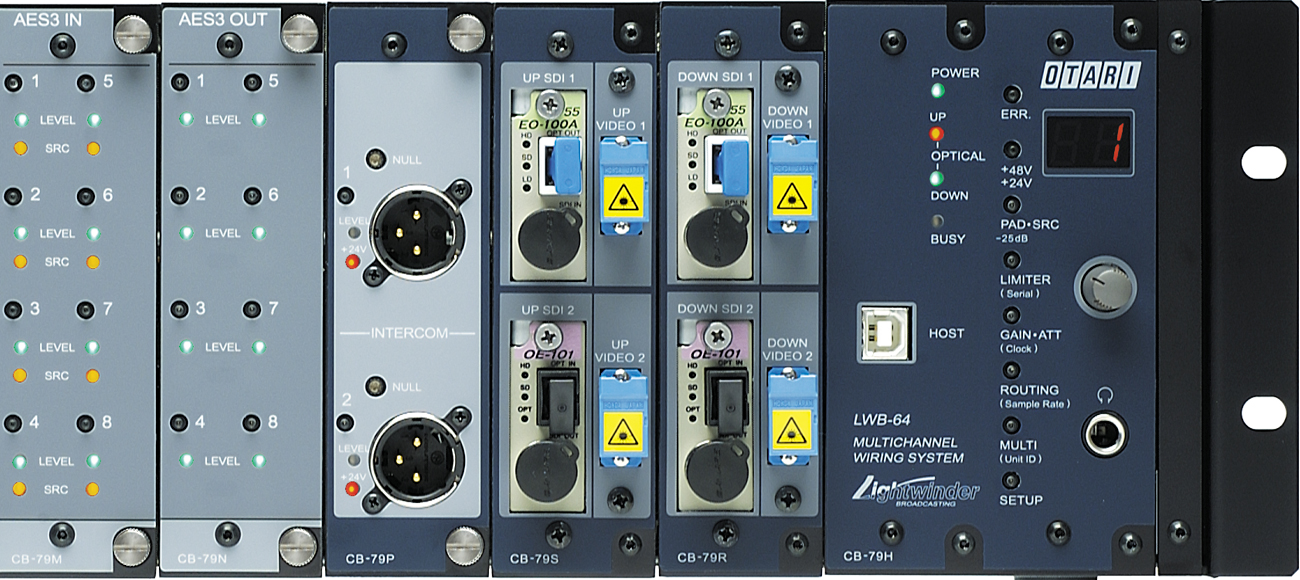 Support for SD-SDI, HD-SDI, and 3G-SDI: By adding an optional video transmission module, the LWB can transmit digital video signals.
Transmission of 2 Channels of Video Signals per Fiber-Optic Cable: With the LWB-16M/64's transmission method using WDM, one optical fiber can send one channel of video signals. Since the fiber-optic camera cable contains two optical fiber lines, two channels of video signals can be transferred via one camera cable.
Protection of Video Patch Cord: An optional cover to protect the video connectors and patch cords on the front panel is available. Cable protection plates are supplied with the LWB-64 in the standard accessory kit. For the LWB-64, a setback type video transmission module will be soon available.
How are video signals transmitted simultaneously with audio signals? By adopting the Wavelength Division Multiplexing (WDM) technology, one optical fiber can send two optical signals having different wave lengths. The LWB-16M/64 uses a 1310-nm optical signal for audio and 1551 nm optical signal for video. These two optical signals are multiplexed by using a passive component called a WDM coupler and then transmitted via the optical fiber.