LWB-16M/64 Optical Wiring System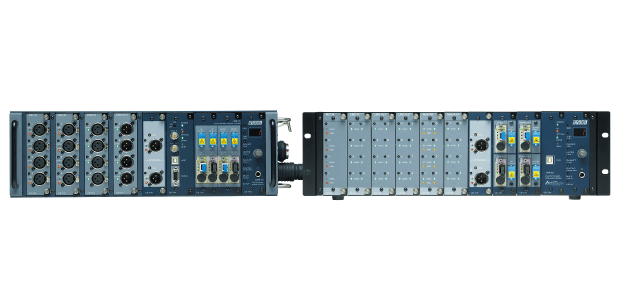 The Otari LWB (Lightwinder Broadcasting) is an appratus that converts various signals being handled at an outside broadcasting venue into digital data and transmits it via optical fiber cables.
Such signals include microphone and other audio signals (digital and analog), intercom signals, SDI & HD-SDI video signals and control signals.
The LWB series are available in two models: a portable field unit "LWB-16M" and a rack mount type unit "LWB-64". The signal I/O configuration of each unit can be flexibly arranged.
Although the LWB system is designed to run without any PC control, your LWB system will be highly enhanced in usability by adding "Lightwinder Commander" Remote Control/Monitor GUI application software.
Lightwinder Commander runs on a Windows PC connected to any LWB unit in the system and has the following functions:
Monitoring of the entire LWB system
Remote and central control of settings such as routing, microphone parameters, etc.
Storing and recalling of setup files
Compact and light-weight audio/video signal transmission system for outside broadcasting.
Available in two models: portable field unit LWB-16M and rack mount unit LWB-64 for OB van installation.
Flexible system configuration from a minimum system of two LWB-16Ms (one facing pair) to a 16-unit system (including LWB-64s). 256 channels of audio signals can be handled by combining multiple units.
Easy setup without PC.
Maximum transmission length is 10 kilometers (unit to unit, with single mode fiber-optic cable).
Signal transmission redundancy is realized by a ring connection: By adding one more fiber-optic cable to close the connection circle, the entire audio data transmission is protected from a fiber cable fault.
Hybrid fiber-optic camera cable can transmit AC power as well as audio signals (there are some limits in power transmission distance). Power supply redundancy is realized by receiving power from the AC inlet and the camera cable receptacle.
Optical power level monitor via 3-color LED.
Control lines in a hybrid fiber-optic camera cable can be used for additional signals.
Audio signals can be monitored with headphones.
Key Lock-Out function to prevent unintentional changes.
Microphone head amplifier gain and turning on/off of +48-volt power, pad and limiter can be controlled locally and remotely.
3-color LED level monitoring (with selectable clip holding) and +48-volt power indication on each mic channel.
LED dimmer.
Video transmission via multi-rate SDI (HD-SDI) can be supported by installing optional interface.
Support for 2-wire and 4-wire intercom systems.
RS-485/422 serial control signal transmission. Optionally transmission of switcher remote control or ARCNET signals is available.
Real-time transmission of channel status and users bits of AES3 signals.
History of Otari Lightwinder
The Lightwinder LW-10 "Stage Master" and "Console Master" released from Otari in 1996 is a digital multichannel wiring system that uses fiber-optic cables for Point-to-Point connection and is suitable for relay broadcasting of large scale sports games and PA for concert tours. On the other hand, the LW-50 "Colosseum" which debuted in 1997, and the LW-55 released in 2004, are designed to provide Multipoint connection and GUI on a PC, and are aimed at large scale fixed installations such as stadiums, theaters and concert halls.
The new lineup of Otari Lightwinder, LWB (Lightwinder Broadcasting) has been designed as a high mobility, simple, compact and light-weight audio/video signal transmission system for outside broadcasting, based on in-depth experience and know-how gained in the development of the LW-10, LW-50 and LW-55, and feedback from our customers.