DX-5 Monaural MO Disc Recorder
This product has been discontinued.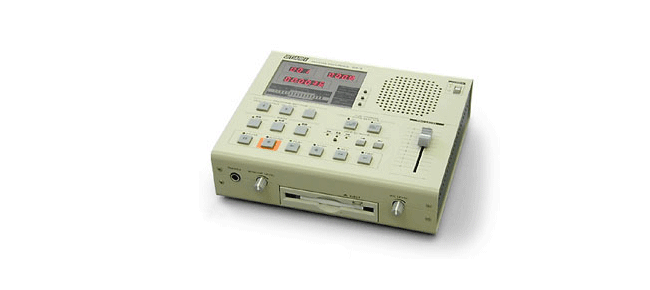 The Otari DX-5 brings the process of recording book readings into the digital field. Based on the technology developed for the professional recorder 'DX-5050', the DX-5 is designed to provide easy operations in the same manner as those of analog tape recorders. The DX-5 uses 3.5 MO disks and 22.05 kHz monaural WAVE format files for storing audio data, so that the recorded materials can be edited and managed on a PC.
3.5" Magneto-Optical (MO) disks are used as the recording media.
WAVE format files (22.05 kHz sampling frequency, monaural) are used for audio data storage.
Transport control buttons like traditional analog tape recorders.
A precise slide control (fader) for recording level control.
7-segment LED display for providing digital display of program numbers, phrase numbers, and program time.
LED peak level meter for checking recording level.
Both an XLR-type connector and phone jack are provided for microphone input.
RCA pin jacks are provided for line input/output.
Monitor speaker and headphone jack provided.
SCSI interface provided for connecting to a PC.
Breaks in a reading (such as for breathing) are automatically detected and the recorded materials are managed as a group of phrases (cue).
Additional recording is possible into a single WAVE file.
Rehearsal function is provided for re-recording mis-readings.
Three playback speeds are possible (normal, x1.5, x2).
The DAISY system is supported. Phrase index data for the DAISY system can be generated by button operations.
AC adapter is provided as standard.