Otari's Magnetic Head Dept. is based on the following four main technical achievements.
Thin film evaporation
Precision processing in micron order
Photo lithography
Dry etching
With these technologies, high performance, high quality magnetic heads are manufactured by skilled workers. These technologies can also be applied to various precision processes other than magnetic tape/disc head manufacturing. For example, precision processing can be applicable to hard materials such as ceramic, ferrite or glass.

The Otari Matsumoto factory is equipped with the following facilities to enable a quick response to customer needs.
List of Facilities (Extract)
Dicing Saw (Disco Corp. DAC552, etc.): Max. work size = 220 x 160 x 305 x 100 mm
Micro Grinder (Fujikoshi Machinery Corp. UMGS-II): Max. work size = 250 x 150 mm
Vacuum Evaporation System (ULVAC, Inc. EBX-6D)
Sputtering Equipment (Canon ANELVA Corp. ILC-3103): No. of chambers = 3
Etching Equipment (Canon ANELVA Corp. DEM-451)
Scanning Electron Microscope (JEOL Ltd. JSM-6400F): Max. magnification: 500,000x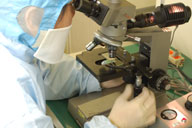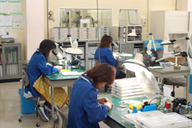 Left: Work in Clean Room. Right: Work in Magnetic Head Dept.

With rich experience of over 40 years and unique know-how, Otari can provide customers a total solution for products containing magnetic heads, from development/pre-production/production of a device to system construction, in addition to making custom magnetic heads.
If you need help in finding a magnetic head or magnetic head related device, or if you have a clear need for such products, please contact Otari.
Experts who created many industrial production lines will take your requests and provide an optimum solution based on thorough analysis and investigation.
For custom magnetic head products, feel free to contact us.
[Previous Page]