VL-322 Video Cassette Loader
This product has been discontinued.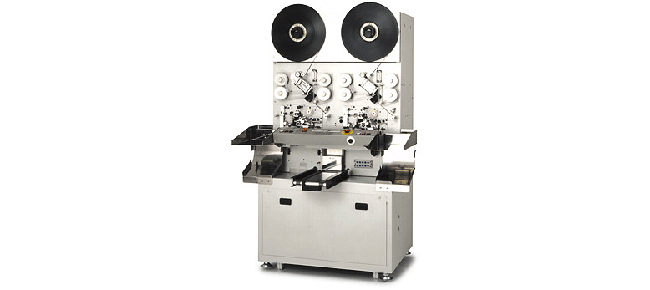 The Otari VL-322 VHS video cassette tape loader automatically loads 1/2"-width magnetic tape into VHS cassettes (V-0: VHS video cassette with only leader tape wound in it) in accordance with conditions pre-set by the operator. Cassette supply, tape cut, splice, wind, and eject are automatically performed. The VL-322 contains two winding stations and can produce two cassettes simultaneously.
The VL-322 is available in two types, according to the cassette supply/ejection methods - VL-322AC (conveyor type) and VL-322AS (magazine type). The VL-322AC uses the optional conveyor system for supplying and ejecting cassettes and the feeding of cassettes is fully automated. The VL-322AS uses the standard V-0 magazine and V-X magazine and the cassettes must be supplied and ejected manually.
Operational Features
Two independent winding stations enables parallel production of two cassettes. Different types of cassettes can be produced simultaneously.
A maximum of 30 m/s winding speed and 5 m/s2 acceleration rate provides higher productivity at approximately 12 seconds per cassette (T-120) cycle time with two winding stations.
Simplified tape path for easy tape setting
Splicing tape max. 80 mm in diameter can be used
Air guides are used to provide better tape handling to minimize tape dropouts on oxide of the magnetic tape
Normally, up to two defective cassettes can be stacked. Ejecting a defective cassette will not interrupt continuous production
The remnant winding function enables changing product types when the pancake is depleted to the specified amount
The control panel located in front of the machine provides ease of operation
A 40-character x 2-line liquid crystal display (LCD) can supply ample operating information and provides detailed product and machine status information
Maximum 99 channels to store winding conditions
Cassette supply/eject conveyors are located in front of the loader which facilitates maintenance of the conveyor system (VL-322AC)
The tape cleaning system is equipped as standard
The optional cue tone detection system enables loading of recorded tapes
Maintenance Features
Since the main mechanism parts are assembled on sub panel, it can be easily dismounted from the loader to reduce adjustment steps.
The take-up motor servo circuit is digitally controlled so that the parameters can be set from the numeric key switches on the control panel.
Main circuit boards are attached behind the front cover.
Detachable cutter blade holders: provide easy and safe replacement.
Vacuum sensors located on the front panel facilitate adjustment and maintenance.
Air chamber filter located on the top panel for easy cleaning.