This product has been discontinued.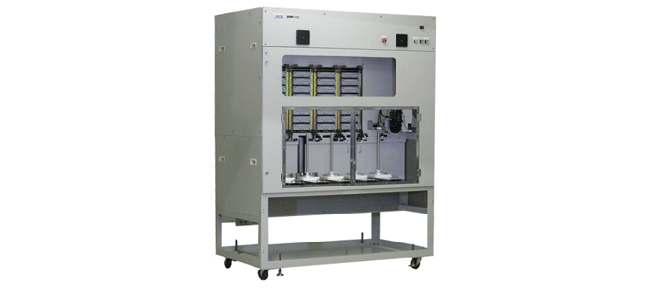 The Otari VDP-132 is a DVD-R duplicator that can write to 32 DVD-R/CD-R discs simultaneously. By controlling duplicating operation in 4-drive units, the VDP-132 utilizes DVD-R drives effectively to provide higher productivity. By adopting a durable, reliable disc handling system, the VDP-132 enables long, unattended, automated DVD-R/CD-R duplication.
Simultaneous Writing to up to 32 DVD-R Discs at 8x Speed: DVD-R drives are configured in an array of four units by eight lines. Since duplication can be started when all of the drives in a line are loaded with blank discs, drive idle time for disc exchange is minimized to attain greater productivity.
Both DVD-R and CD-R: High-speed writing to DVD-R at max. 8x and to CD-R at max. 16x. Applicable to various types and size of production. Disc formats supported include: DVD-ROM, DVD-Video, CD-DA, CD-ROM (MODE1, MODE2), CD-ROM XA, Video CD, PhotoCD, CD-Extra, Hybrid.
Storage for 15 Master Programs: Although transfer of DVD image files is time consuming due to their large file size, switching of master programs can be done quickly by having DVD image files on an external hard disk drive (up to 15 files can be stored) and by transferring the desired program to the VDP-132's internal hard disk at a higher transfer speed.
Master Program Registration during Duplication: The above-mentioned master program file transfer to the external hard disk can be performed while the VDP-132 is in duplication mode. This can drastically reduce the time required for master program registration.
Reliable Disc Handling Robot: The VDP-132 adopts a rigid and reliable disc handling system designed for the long and continuous operation required for a large scale disc duplicator. For greater safety, there is an interlock system that automatically stops operation when the front door is opened.
Spindle-basis Disc Exchange: Discs are supplied and collected as stacks on spindles which are commonly used (contact Otari for more details about spindle shapes). Two spindles can be set on both the supply and eject sides, providingabout 320-disc capacity.
Closed Chassis Construction: For DVD-R/CD-R writing to protect against contamination from dust, the VDP-132 adopts a closed enclosure.
Production Management and Monitoring System with Intuitive GUI: The production management and monitoring system running on a Windows 2000-based platform provides easy-to-understand indications of machine status and production processes. The maintenance application software can help servicing personnel by supplying detailed status information from each sensor as well as robot control information.