This product has been discontinued.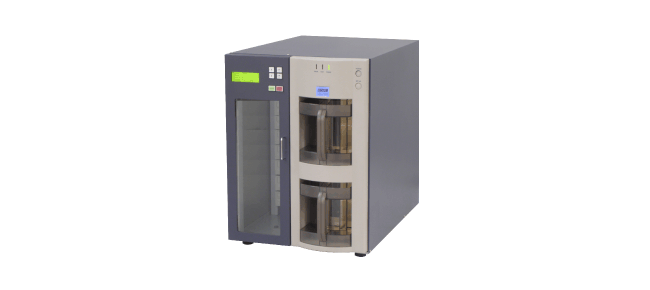 The Otari VDP-108 CD-R/DVD-R duplicator improves suitability for small quantity productions and contains eight high-speed CD/DVD+/-R/RW drives and a built-in 80-GB hard disk drive. With intuitive and easy operation and usuful features, the VDP-108 is a highly cost effective stand-alone machine to multi-product production.
Features
High Productivity and Stability: The VDP-108 houses eight high-speed drives to enable simultaneous writing to eight discs. Mugs that can contain up to 100 discs are used to allow continuous production. Stand-alone design without the need for an external PC provides stable operation.
Ready for Dual Layer Discs: In addition to DVD-R, DVD-RW, DVD+R, CD-R, and CD-RW, the latest dual layer DVD discs (DVD+R DL only) are supported to supply large capacity content.
Batch Mode: By layering batches in the supply mug (a batch is composed of a master disc placed on blank discs), multiple programs can be copied continuously in Batch mode. This enables you to handle small quantity multi-product productions with a long unattended operation and to cut down production cost.
Higher Productivity with Built-in 80-GigaByte Hard Disk Drive: The VDP-108 is equipped with a 80-GB hard disk drive to store up to 14 master program image files created from master CD/DVD discs.