R-750 Mirror Master Recorder
This product has been discontinued.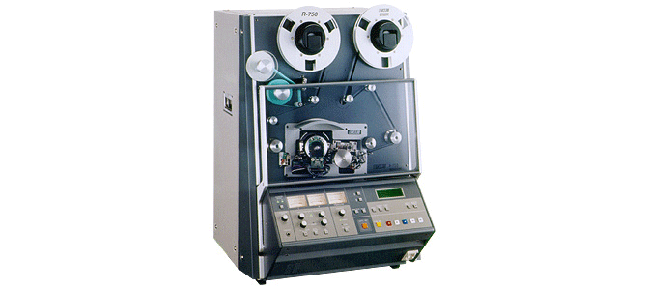 The Otari R-750 mirror master recorder (MMR) is a device for recording mirror images of a VHS format video onto 1/2 inch magnetic tape. Tapes created with the R-750 can be used as the master tape in the TMD (thermal magnetic duplication) system.
Variations
The R-750 is available in the following four types according to the video formats:
R-750NS: NTSC-SP
R-750NE: NTSC-EP
R-750P: PAL
R-750S: SECAM
Features
Provides separate Y/C inputs
Video levels (hue, color, burst, luminance) can be adjusted individually
Dolby HX Pro Headroom Extension* is provided as standard
Independent playback head for the linear audio track is provided
Input selection switch is provided on the rear panel to provide Hi-Fi audio signals as the linear audio input
Provides four audio equalizers
Meter expand function is provided for precise level adjustment
Internal test oscillator provided. (100 Hz, 1 kHz, 5 kHz, 10 kHz, sine wave)
2 inch monitor speaker provided
RCA pin type audio output connectors are provided to simplify connection
Headphone jack provided
Computer controlled transport operation
Search Zero function
Automatic recording is possible by setting parameters
Constant tension control provided by the tension servo circuitry
Simple format conversion: Video formats can can be changed easily by replacing the rotary head scanner assembly and two PC boards
The mini-Pro function is integrated as a standard function
Mountable into a standard 19-inch rack
Existing R-700 scanner assembly can be used
Real time counter provided
VISS switch terminal is provided on the rear panel to record VHS VISS signals onto the tape during recording
A 20-character x 4-line back-lit liquid crystal display can supply ample operating information
Record inhibit function is provided to prevent recording with already recoded tapes
HX Pro Headroom Extension originated by Bang & Olufsen and manufactured under license from Dolby Laboratories Licensing Corporation. "Dolby", the Double-D symbol, "HX Pro" are trademarks of Dolby Laboratories Licensing Corporation.