ND-20B Network Audio Distribution Unit
This product has been discontinued.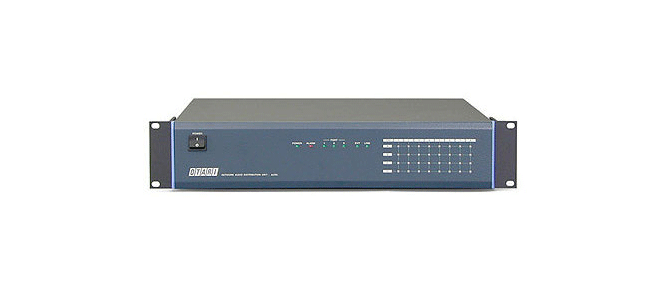 The ND-20B is a network audio distribution unit which provides a networking solution for audio signals. By connecting multiple ND-20B units through an IEEE 1394 network, the input audio can be distributed via the network and output in different signal formats. Also, as the ND-20 features a self-routing function, a single ND-20B unit can be used as a high-quality A/D or D/A converter, or a format & sample rate converter for digital audio.
High-Quality A/D and D/A Conversion: The ND-20B provides high-quality A/D and D/A conversion as a stand-alone device, or combines with multiple ND-20's into a 96 kHz digital audio network.
Complete Solution for Audio Connection: Superior analog circuitry, built-in sample rate conversion, and the ability to use multiple sample rates make the ND-20 a complete solution for connecting and networking digital and analog audio.
Up to 32-Channel Capacity: Each ND-20B unit provides up to 32-channel capacity (16-channel with 96 kHz-sample rate for analog or digital inputs or outputs.
Expandability: The ND-20B has four slots for I/O cards. Options include Mic Inputs (remotely controlled), Line Inputs, Line Outputs, AES Input/Output. All I/O's are capable of 96 kHz, 48 kHz, 44.1 kHz, 32 kHz sample rates, plus pull-up/pull-down rates. TDIF I/O will also be available.
Sample Rate Conversion: Sample rate conversion is built into all AES input channels with individual control over each channel.
A/D or D/A Conversion: The ND-20 can be used for A/D or D/A conversion (96 kHz) or for D/D sample rate conversion.
Audio Networking: Up to 63 ND-20 units can be connected via cable or fiber optics to provide an audio network capable of 96 channels (48 channels with 96 kHz). The maximum number of channels varies according to the connection and sample rate.
Other Features

Multiple sample rates
Mic or line inputs
Line outputs
Remote control of mic input gain
Fiber or cable transmission
Use as stand-alone or with multiple units
Redundant power supply optional