Elite+ Analog Audio Mixing Console
This product has been discontinued.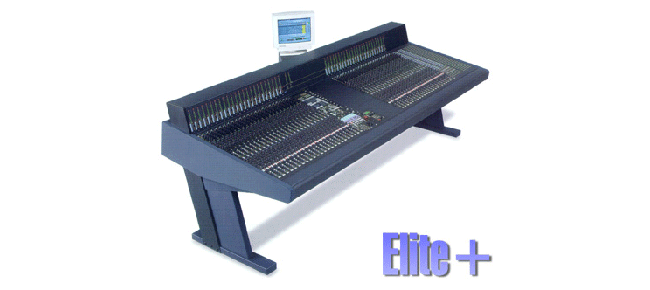 Designed specifically to meet the stringent requirements of emergent 5.1-channel Surround Sound audio production techniques, Otari's Elite+ is equally at home in music, post-production and film dubbing environments. Elite+ provides the familiarity of a traditional analog mixing console with all of the power and features of digital control and timecode automation. In terms of price/performance, no other digitally controlled analog console on the market comes close to Elite+.
Elite+ Console is our latest and most fully featured large-format, 24-bus digitally controlled analog console. It builds upon the successful features of the 24-bus Concept-I, Premiere and Elite consoles.
Setting a Higher Standard: Capitalizing on over 100 years of combined analog audio design experience, Elite+ sets new standards for sonic performance and dependability. World class Mic Pre-amps, EQ and Dynamics on each channel minimize outboard gear requirements, and offer repeatable and automated control of your mix.
Automation: Otari's user-friendly Eagle Automation dynamically automates Fader and Switch settings, and allows reset of console snapshots to timecode. Since virtually all console switching and routing functions can be stored in snapshot memories, full automation of the entire control surface is at your fingertips.
Image Recall: Elite+ comes standard with Otari's powerful Image Recall system, which allows all mono input module settings (EQs, pan pots, faders & switches) to be stored at the touch of a button. An LED-guided Nulling System enables fast and accurate recall of virtually every input module parameter. Multiple modules can be nulled simultaneously for fast control resetting.
Surround Sound: Elite+ offers two levels of Surround Sound Panning and Monitoring options for specific production requirements.

Direct Pan is built into Elite+ modules. Designed to accommodate any panning format up to 5 channels (for 5.1 projects), Direct Pan is controlled by individual module pots, or a pair of automated Joysticks mounted on the Digital Master Module.
PicMix Panner is also available for up to 8-channel panning and automation of 16 panners
M-Mon is the console's built-in Surround Sound monitoring system that can control up to 8 output channels for SDDS-format mixes. Ideally suited for music and postproduction, M-Mon offers the right features to get you started in Surround Sound production.
For more Advanced Surround Sound monitoring requirements, Otari's award-winning PicMix Monitor system is available.
Currently being used in leading Film and Post facilities around the world, PicMix Monitor incorporates 32 channels of PEC/Direct switching with Machine Control, and can accommodate up to three Operator Positions.

Standard Features: Each of the the console's dual-input (Channel and Mix Path) modules comes standard with:

Digital Control of Analog Signal Path
Dynamic and Snapshot Automation of Faders and Switches
Image Recall of All Console Parameters
Dual-path Input/Output module design
Dual, symmetrical 4-band EQs
10 auxiliary Sends
User-definable presets
Balanced +4 dBu inputs, outputs, inserts, direct outs and bussing
Comprehensive digital metering and status indication
TT Patchbay, with high quality, metal jacks

Options: Available options for Elite+ include:

Direct Pan - 5.1 Surround panning capabilities
Direct Assign to Track Busses
Three frame sizes (32, 40, 48 modules) with shortloading capability
48 Buss Capability
Mono and Stereo Input modules
Stereo Group Modules
Moving Faders on both lower and upper fader banks (VCA standard)
Dynamics (compressor, limiter, gate) available on Channe and Mix path. Includes dedicated Hardware Control Panel (HCP)
M-Monitor - a cost effective, integrated surround-sound monitoring system
PicMix Monitor - surround-sound monitoring for advanced Post and Film applications
Specifications are subject to change without notice or obligation.