DX-5050 2ch MO Disc Recorder
This product has been discontinued.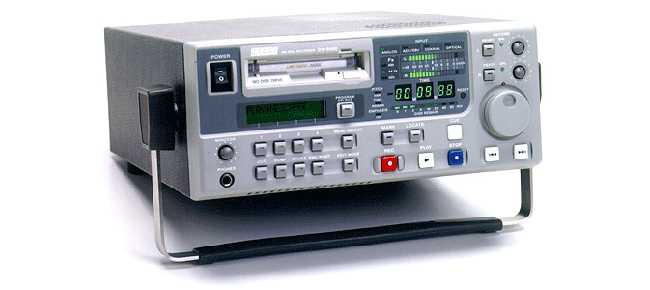 The Otari DX-5050 is a 2-channel digital audio disc recorder using 3.5" Magneto-Optical (MO) discs as recording media.
ISO standard 3.5" MO disks as storage media: Users can get MO disks easily and inexpensively. Three storage capacities, 230 MB, 540 MB, and 640 MB, are available and the recording times for each disk type are: approximately 20, 50, and 60 minutes (44.1 kHz sample rate, stereo). Users can select the disk according to their required recording time.
The MO format used is the same as that of the DOS format. Formatted MO disks available at computer shops can be used directly.
By connecting a commercially available external 3.5&quit; MO drive for personal computers to the DX-5050, recording can be continued to two disks. This enables a maximum of 120 minutes recording time.
.WAV file format: The recorded sound data format used is the same as the Microsoft Windows standard WAVE file format. Since usual PC-based DAWs support this format, users can transfer the audio data recorded on the DX-5050 directly into their DAWs and the audio data recorded on a DAW can also be played on the DX-5050 directly. Elaborate editing may be done on a PC-based DAW.
Familiar 1/4" analog tape machine style operation: Basic editing functions are available on the main unit, enabling cut-and-paste editing as quickly as that on 1/4" analog tape machines.
Unlike DAT and MD machines, there is no audio delay at play start-up.
No data compression, no deterioration in sound quality
Optional input sample rate converter
Compact and light weight, easy to install and carry around
BWF Format File Playback: Program files in BWF (Broadcast Wave File) format proposed by EBU now can be played back
Adoption to EIA standard rack: The DX-5050 can be installed into the standard 19" rack by using the optional Rack mount adaptor.