DTR-8S Professional R-DAT Recorder
This product has been discontinued.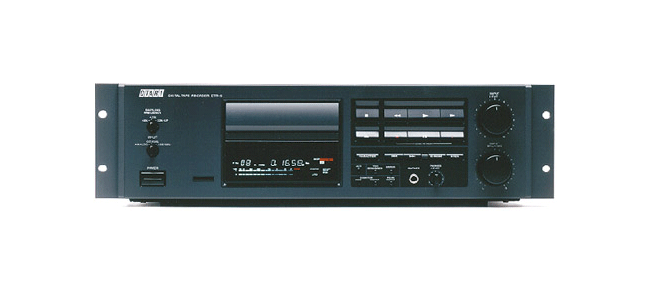 The Otari DTR-8S is a 2-head professional R-DAT recorder conforming to the IEC DAT standard and is compatible with other R-DAT recorders including consumer models.
Active balance input/output: The analog audio input/output of the DTR-8S uses transformerless +4 dBu (-10 dBV switchable) active balanced circuits with professional standard XL type 3-pin connectors. Higher sound quality is achieved by using pulse flow 1 bit D/A converters, 1 bit wide range linear A/D converters, a clock circuit with less jitter in clock signals, etc.
Input monitoring: By pressing the REC button without setting a cassette in the DAT transport, the inputs to the DTR-8S can be monitored. When a cassette is in the transport, the inputs can be monitored by placing the machine in Rec Pause mode.
Sample rate: One of three sample rates: 48 kHz, 44.1 kHz, 32 kHz-LP (long play) is selectable for analog input recording. When recording digital input, sample rate is automatically selected from 48 kHz, 44.1 kHz, 32 kHz, and 32 kHz-LP according to the status bit information and switch selection.
High speed search: The TOC information written on the tape is read to be used for recognizing program numbers and the beginning of the program. This is done to enable high speed search at a maximum of 300 times play speed (normal search speed is 200 times play speed).
Subcodes: Various time information, start ID, skip ID, end ID, etc. can be written on and erased from the tape. TOC information for tape editing and archiving is also available.
Q code synchronized start ID: When receiving digital signal input from a compact disc player, the Q code in the signal is used to write start IDs precisely even if there is no blank space between programs.
Character pack: Character data based on the DAT standard can be written/read (displayed). Data for up to 60 characters can be added to the start ID at the beginning of each program. When the character data is read during playback, the characters will automatically appear and scroll in the counter section. The read character data can be shown again by pressing the CHARACTER button.
Digital interface: Two digital audio interfaces AES/EBU and COAXIAL are available.
No SCMS: For use in pro audio situations, SCMS (Serial Copy Management System) is not supported.
Rigid construction: A high rigidity honeycomb chassis design is adopted. The mechanism section is placed in the center of the chassis to provide better weight distribution for minimizing vibration and resonance. Furthermore, the tape is held by a unique cassette stabilizer to prevent degradation of sound quality due to such mechanical disturbances.
External remote control interface: A parallel remote control terminal is provided. Available commands include: Play, Stop, Rec, Pause, F.FWD, Rewind, Next, and Previous.
Wireless remote controller with numeric keys
Jog & Shuttle: By pressing the F.FWD or REW buttons while in Pause mode the Jog feature is initiated. When in Play, Shuttle is activated by pressing or holding the F.FWD or REW buttons.