DR-100 48ch Digital Audio Disk Recorder
This product has been discontinued.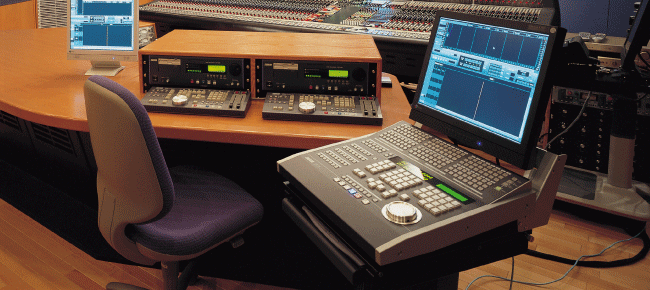 The DR-100 is Otari's new flagship that succeeds the legend and rightfully enhances the reputation.
Unlike many non-linear recording systems that rely on a conventional general-purpose desktop computer, the Otari DR-100 is based around a custom-designed rack-mounting recording engine that was developed specially for the purpose. Again unlike many recording systems that rely on the notoriously error-prone Windows operating system, the DR-100 processor runs the Unix-like Linux operating system optimized for the product, offering superior reliability, efficiency and the proven ability to work round the clock under the pressures of a professional recording environment.
What is MADI?
MADI is the AES standard for serial digital transmission of audio signals over 75-ohm coaxial cable. The original MADI standard (AES10-1991 - established in 1991) could handle up to 56 channels of digital data via one coaxial cable.
The standard was then revised (as AES10-2003) to support up to 64 channels of digital data at sampling frequencies up to 96-kHz over coaxial or fiber-optic lines.
Advantages of MADI
MADI provides a great merit that it requires only a single cable to connect multichannel audio.
One of the great advantages of MADI is that it can convey multichannel audio signals via a single cable.
1. Low Cable Cost: MADI adopts coaxial and optical fiber cables and this can substantially affect the cost of an entire system. Since cables are subject to breakage or deterioration and need to be replaced periodically, reduction of cable cost is an important factor in reducing overall running expenses.
2. Lossless Transfer via Optical Connection: By using optical MADI connection with the DR-100, longer cables can be used without the signal attenuation or external noise of metal cables. Optical MADI connection is preferable if low susceptibility to electrical noise is required.
3. Improved Connectivity with Recording Consoles: Since the handling of mulitchannel digital audio signals is common in digital consoles, many digital audio mixing consoles adopt MADI as a standard or optional I/O.
Data Compatibility
The DR-100 uses an original format to store audio and edit data, but data from the DR-100 can be exported for use in other DAW's.
The DR-100 stores audio and edit data in the original format but it can export the data to other machines. Two formats, BWF and AES31-3, are supported by the DR-100 for data compatibility with other DAW's.
BWF (Broadcast Wave File): BWF is the extended WAVE file format established by the EBU (European Broadcast Union). A BWF file can additionally contain time stamp information such as start time, copyright information, comments, etc. This is the most popular format supported by many DAW's. The following is a list of major DAW's that support BWF.
AES31: The DR-100 supports AES31-3 for simple project exchange.
By exchanging data between the DR-100 and any of these DAW's, users can create a flexible workflow suited to their operating environment.
Furthermore, since the DR-100 supports the above two formats by using an Export function, original files are always maintained on the DR-100, so that even if data is damaged during a complex editing process, the original data can still be recovered.
Data Exchange
Data exchange becomes an important point when multiple operators are involved in a project.
Whenever multiple operators are involved in a project, the ability to exchange data between them becomes important. The DR-100 can exchange data with other DAW's by using its Export/Import function, so that data can be shared by any of the following methods.


1. Removable Hard Disk: This is the standard data delivery method for the DR-100. The export hard disk is removed from the DR-100 and mounted on a PC, Mac or server that has a Kingston SCSI removable hard disk receiver, and the data can then be copied to another disk. This method is useful for moving large size data such as a long project.
2. DVD-RAM Disc: This requires a DVD-RAM drive (option) added to the DR-100. Data is exported onto a FAT32-formatted DVD-RAM disc which can then be passed on to a colleague or client. This method is applicable to short projects that can be saved on one DVD-RAM disc.
3. Network: The DR-100 can exchanges files with a Windows PC or Macintosh via a network. By connecting a PC or Macintosh with DAW application software installed to the DR-100 via a network, the DR-100 is recognized as a network disk by the PC (Mac). (For network configuration, please contact Otari.) If DAW software is being used on a PC or Macintosh computer, this is the most convenient way to exchange data.
Refined Operability
Two types of remote control units are available depending on the user's application.
CB-179 Remote Control Unit

The CB-179 is a remote control unit that was designed to be reminiscent of a traditional multitrack tape recorder remote controller and is therefore instantly accessible to new users. Operators can handle the DR-100 like a familiar tape machine because the CB-179 provides an intuitive user interface and the transport control key layout can be selected from three types.
The CB-179 can access all of the features of the DR-100 and will give an operating feel worthy of the Otari flagship recorder.
Unlike many DAW's, the remote control unit itself has VGA capability. So even if the DR-100 engine unit is installed in a remote machine room, you do not have to run a long VGA cable.
A dedicated stand is also available for the CB-179. This stand has an adjustment mechanism for the angle of the LCD monitor and control surface.
CB-184 PC Remote Control Unit for DR-100

The CB-184 PC Remote Control Unit is a budget remote controller having the CB-179's software environment but with some functional limitations. It is basically a Linux notebook PC optimized for the DR-100 control with dedicated application software and it is the minimum system for basic recording.
The CB-184 would be convenient for using the DR-100 in a narrow space like an OB van or small studio.