DP-8 Audio Cassette Duplicator
This product has been discontinued.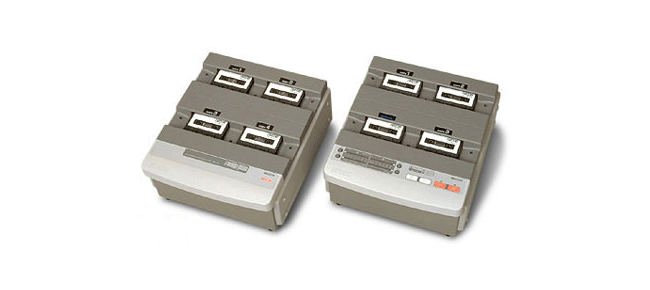 The Otari DP-8 series cassette copier is a compact duplicating system for audio compact cassettes. The DP-8 series can duplicate cassettes at the copy rate of 16 times. The DP-8 series consists of two machines: DP-8-C3 master unit and DP-8-Z4 copy unit. The DP-8-C3 includes one master deck and three copy decks, and a 1:3 duplication is obtained with a single use of the DP-8-C3. The DP-8-Z4 includes four copy decks and is used for only recording signals sent from the DP-8-C3.
The duplication system can be easily expanded by connecting the DP-8-C3 with up to 15 DP-8-Z4s. A maximum system provides a 1 : 63 duplication system. Also, by combining the optional Otari DP-10/DP-3 or DP-33 Digital Master Reproducer (x16) with the DP-8 series machines, the system provides high quality recordings.
Simultaneous duplication of stereo audio on both tape sides at 16 times speed.
C-60 tape is copied in 2 minutes.
Simple one-button operation.
Automatic rewind of original and copy tapes at program end in Auto Copy mode.
Simultaneous master and copy control from DP-8-C3.
Copy end alarm function.
Short tape error detection alerts the operator by an alert sound and indicator blinking when a copy tape ends before the end of the original tape.
Rugged metal base for durable operation & CPU full logic control.
CPU control, 2-reel DD motor stabilized transport mechanism.
More than 60-tape per hour copy capacity with one DP-8-C3. And more than 80-tape per hour capacity at 16 times speed (with C-60 tapes).
Highly dependable 4-channel in-line ferrite heads.
Erase head equipped in a copy deck enables instant over-recording.
LED peak meter display for 4 channels and independent level controls (C3).
Adjustable bias and record level for each channel.
Reel brake system for preventing tape slackening.
One-touch connection between the DP-8 series machines.
Connectivity of up to 15 DP-8-Z4s to one DP-8-C3.
A-side only mode enables duplication of one side of cassettes.
Interfacing to Otari DP-10/DP-3 or DP-33 Digital Master Reproducer for superb copy quality.