DP-203 Digital Master Reproducer
This product has been discontinued.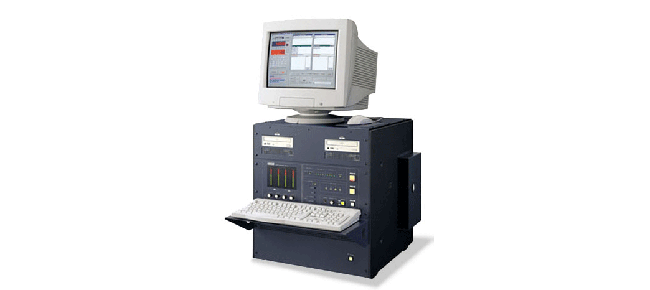 The Otari DP-203 Digital Master Reproducer is a playback machine for a high speed duplication system for high quality pre-recorded audio cassette tapes.
The DP-203 plays digital audio signals from its solid state memory (SDRAM), there is no concern for tape jam or deterioration of sound quality due to repeated duplication often experienced on conventional loop-bin analog master tape players.
The DP-203 has been designed to be a replacement for analog master tape players and can connect to high speed slave recorders from Otari (DP-75, DP-55, etc.) or from other manufacturers. Two copy rates can be selected from 64x, 80x, 128x and 160x according to slave recorders used with. (Copy rates should be specified when ordering. A single speed model is also available.)
Two PC motherboards to attain high speed audio file transfer
Intuitive and easy operation using Otari original application software (for Windows 98*)
Maximum copy rate of 160x play speed for 44.1 kHz sample rate programs
Support for networking. The DP-203 can connect to up to four PC's via Ethernet (100 Base/T). An external PC can be used as a controller (server) or a monitor.
Two CD-ROM drives and two removable hard disk drives for master program acquisition
Support for CD-DA and Wave formats
Ample solid state memory capacity for long programs (C-120)
Four operating mode presets including copy rate, record bias, EQ, and Dolby HX Pro** on/off (compatible with DP-55, DP-75 and DP-95)
Cue tone oscillator with variable frequency and output level
Separate 4-channel buffer amplifier
Record signal output level adjustment in 1 dB steps
LED bar graph level meters
Monitor headphone amplifier
Monitor output for external powered monitor speakers
Automatic stop feature based on the number of playbacks or the number of copied programs
* Windows is a registered trademark of Microsoft Corporation
** HX Pro Headroom Extension originated by Bang & Olufsen and manufactured under license from Dolby Laboratories Licensing Corporation."Dolby", the Double-D symbols and HX Pro are trademarks of Dolby Laboratories Licensing Corporation.