CDR-18 Professional Compact Disc Recorder
This product has been discontinued.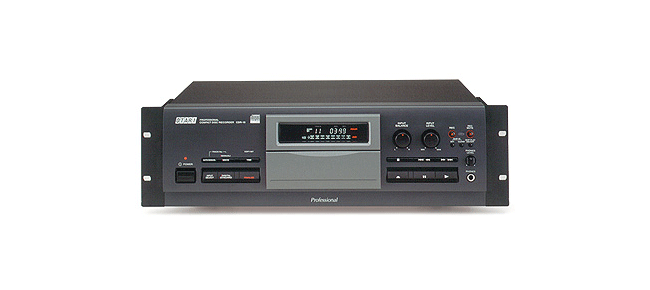 The Otari CDR-18 is a professional compact disk recorder which can record audio signals onto CD-R discs.
Analog audio interface: Two types of inputs--LR type balanced (with +4/-8 dBu selection) and RCA pin type--and RCA pin type outputs are provided.
Digital audio interface: Three types of inputs--AES/EBU (XLR), IEC958 (coaxial), and optical--are provided. For output, IEC958 (coaxial) and optical are provided.
1-bit A/D converter: 1-bit type A/D converters are used which theoretically create no zero-cross distortion and less non-linear distortion over the whole range.
Turntable-type disc drive mechanism: Supports the whole disc surface to reduce vibrations.
Sample rate conversion: The CDR-18 converts the sample rate of the incoming digital input signal to 44.1 kHz if it has a sample rate other than 44.1 kHz (i.e., 32 or 48 kHz).
Digital synchronized recording: When recording digitally from DAT, MD, etc., the CDR-18 can start and stop the recording in synchronization with the source player. Also, it offers a mode for synchronized recording of a single track. Assemble recording is possible with a simple operation.
Automatic track number increment: When digitally recording digital signals having track numbers (or start IDs) such as from DAT, MD, etc., the CDR-18 automatically renews and writes track numbers by detecting track changes in the incoming audio signals or subcode. When a recording is to be made with the analog inputs, or with the digital sources having no track numbers such as satellite broadcasting, the CDR-18 can automatically write track numbers by detecting silent sections. The threshold can be selected from -infini., -80, -70, -60, -50, and -40 dB.
Digital fader: The CDR-18 has a digital fader function which can be operated with one button and provide natural fade-in and fade-out. If the remaining disc capacity becomes less than 3 seconds, the CDR-18 will automatically stop the recording applying a fade-out to prevent the sudden stop of audio at the end of the disc.
Copy bit selection: Depending on the application of the discs, the copy bit can be selected from three types: copy inhibited (1/0), one copy possible (0), and copy possible (1).
Wireless remote controller CB-166: A wireless remote controller with command and numeric keys is supplied.
Parallel remote control interface: An 8-pin miniature DIN connector is provided for controlling the CDR-18 from an external device.
Adoption to EIA standard rack: The CDR-18 can be installed into standard 19" racks.