2007-07-09
Otari, Inc. attended "NAB 2007" held from April 16th to 19th 2007 at Las Vegas Convention Center and exhibited LWB-16/64, DR-100 and FS-96.

The latest model of the Lightwinder, LWB-16/64 enables multi-drop transmission of 256 audio channels by cascading up to 16 units and optionally supports transmission of HD-SDI video and intercom signals. By combining the LWB-16, a light-weight compact unit best suited to outdoor use, with the LWB-64 that can house up to 72 channels of audio I/O, system configuration can be flexibly changed and various advantages such as power transmission via camera cables, transmission line redundancy by loop connection, etc. are provided.

The DR-100 is a multitrack digital audio disk recorder supporting simultaneous 48-channel recording/playback to/from one hard disk. MADI has been adopted for console interface so that only one cable is required to link multichannel audio. Combined with the remote controller connected via Ethernet, the DR-100 is very useful even in an OB van where working space is very limited. A smaller notebook PC remote controller is also available.

These products caught the attention of visitors from broadcast companies who are getting ready for HD and surround sound broadcasting. The LWB system was used to telecast a NASCAR event from Daytona Beach and its stability, simple operation and high quality sound were highly appreciated.

Otari designs custom systems based on your specific application requirements. Please feel free to contact us!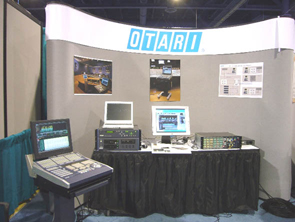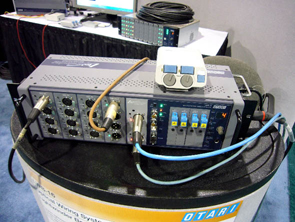 Otari Booth (left) and Display of LWB-16 (right)